Dinner Menu
School meals
At Llanhari Primary School our cooks work really hard to make healthy appealing school dinners. School dinners currently cost £2:70 a day (£13:50 a week). The school operates a 'cashless' system and has the facility for parents to pay for school dinners on-line, a link for this service is on the home page of our website and our app. You can choose to pay daily, weekly, monthly or termly but they must be paid in advance.
The online payment section can be found here:

Welsh Government has committed to providing every primary school pupil with a free school meal by 2024. Rhondda Cynon Taf Council are already providing meals for pupils from Nursery to Year 2. They have confirmed that from the start of the 2023 autumn term on Monday, September 4, 2022, this will be extended to pupils in years 3 and 4. In April 2024, the offer will then be extended to include years 5 and 6.
Free school Meals
Free school meals are also available to children whose parents or guardians are currently receiving one of the following benefits:
Child Tax Credit – where total annual income is also less than £16,190
Income Support (with responsibility for children)
Income Based Job Seekers' Allowance (with responsibility for children)
Support under part VI of the Immigration and Asylum Act 1999
Guarantee element of state Pension Credit
Universal Credit (if working annualised net earnings must be £7,400 or lower)
Even though all primary children will eventually be receiving a free school meal there are further benefits you can access, so it is important to still apply. Once you are entitled to a free school meal you could automatically qualify for a school clothing and equipment grant (PDG Access Grant).
Application forms and further information is available on the RCT website: Free School meals - Apply for free school meals | Rhondda Cynon Taf County Borough Council (rctcbc.gov.uk)
Dinner menu
We offer a two-week menu of hot dishes, along with a daily salad bar, a roll/sandwich menu and a jacket potato option. Our meals include a dessert and a drink. All schools offer unlimited wholemeal bread and, in addition to the dessert of the day, we also offer a limited choice of frozen yogurt, cheese & crackers or fresh fruit daily.
The 2023-24 menu is below.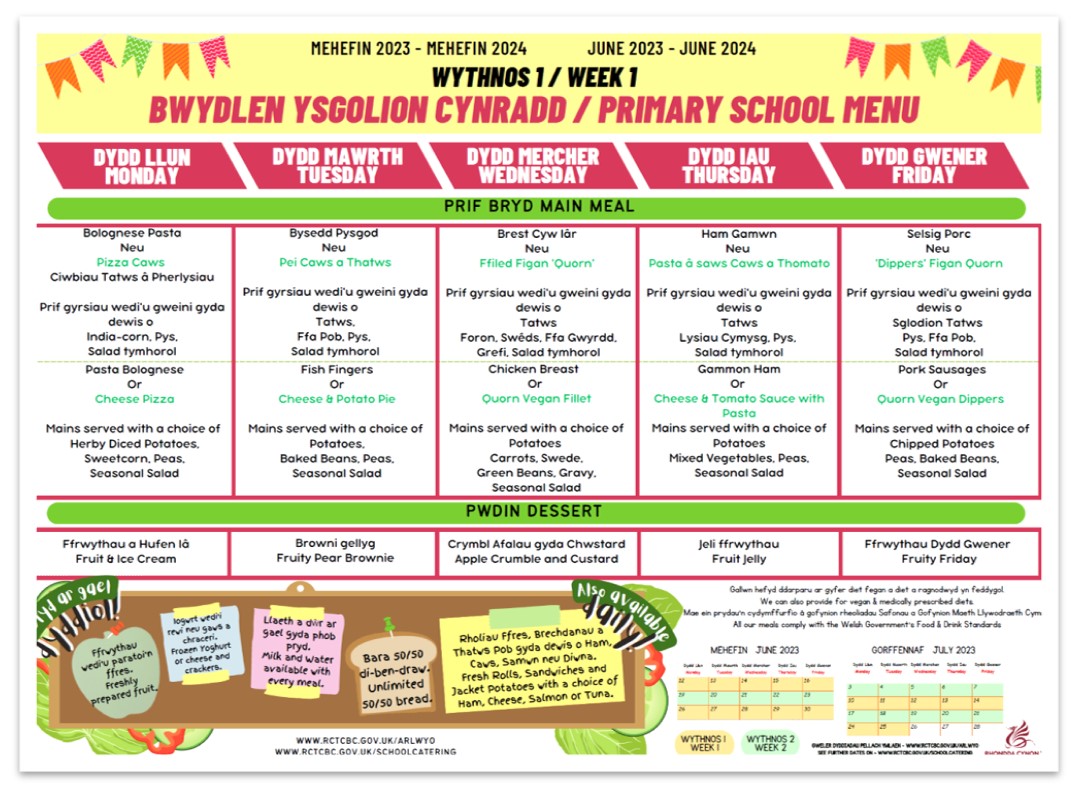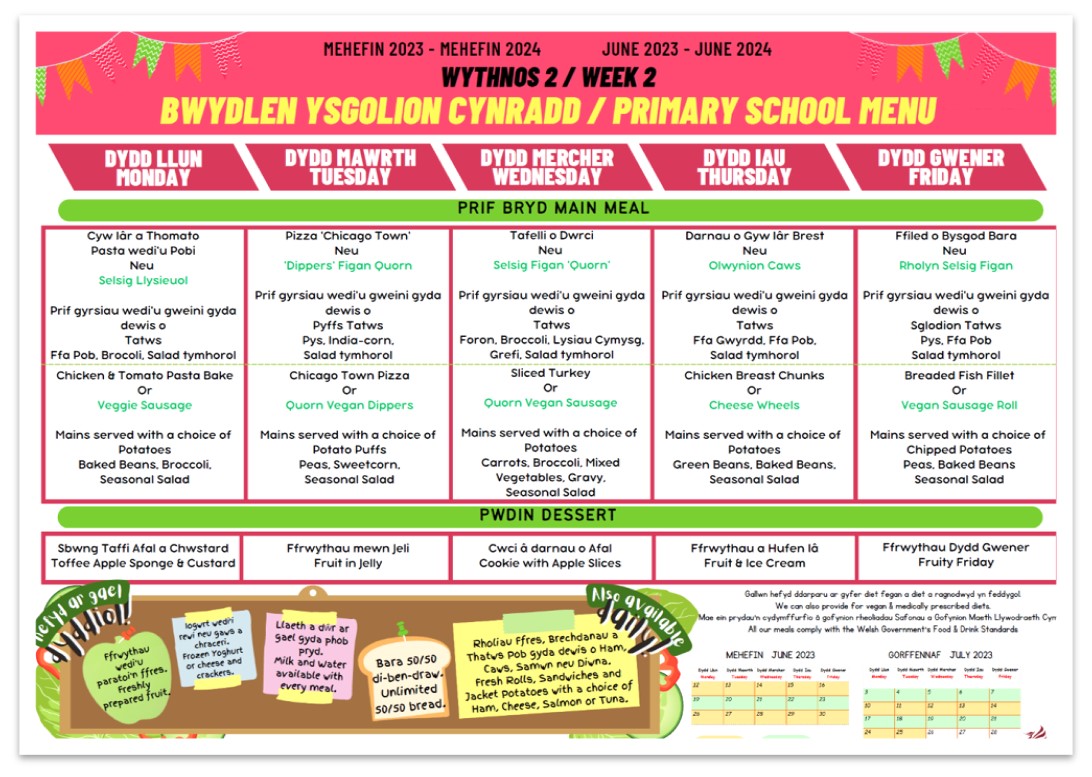 Special diets
RCT Catering Services recognises the importance of managing food allergies. It is critical that specific dietary needs are communicated to the service before an individual is provided with a school meal. (Catering Services regrets that a meal CANNOT be provided until this very important procedure has been completed). The procedure is listed below:
The Parent or Guardian must supply a letter from a Doctor, Dietitian or other Medical Professional which provides full details of the specific allergy and what foods must be avoided. Copies should be provided to the School Clerk and RCTCBC Catering Services (contact details below).
A personalised menu incorporating all of the provided dietary information will be produced. The personalised menu and accompanying disclaimer will be sent to both the Parent/Guardian and the Head Teacher. Copies must be signed by both parties and returned to RCTCBC Catering Services.
The procedure will now be complete, the Catering team on site will be informed, and a meal can now be provided
01443 281141
cateringservices@rctcbc.gov.uk
Packed Lunches
Children are welcome to bring a packed lunch to school. Please remember we are a 'Healthy School' and this also refers to lunch boxes.
All children eat their lunch in the school hall and are supervised by mid-day supervisors.